About Us
FlyVENTURE was founded by Nick Herle and aviation experts with a combined 60 years of flight experience in the helicopter industry. FlyVENTURE is one of the largest and most experienced helicopter tour companies in the nation. With three exclusive landing sites in selected cities, the immersive experience we offer is unrivaled by any other tour company. Our commitment to safety and the community goes beyond having well-maintained state of the art aircraft and experienced pilots; our Safety Management System creates a company-wide culture of safety. Our trained team will make sure every passenger feels secure and comfortable before, after and during their flight.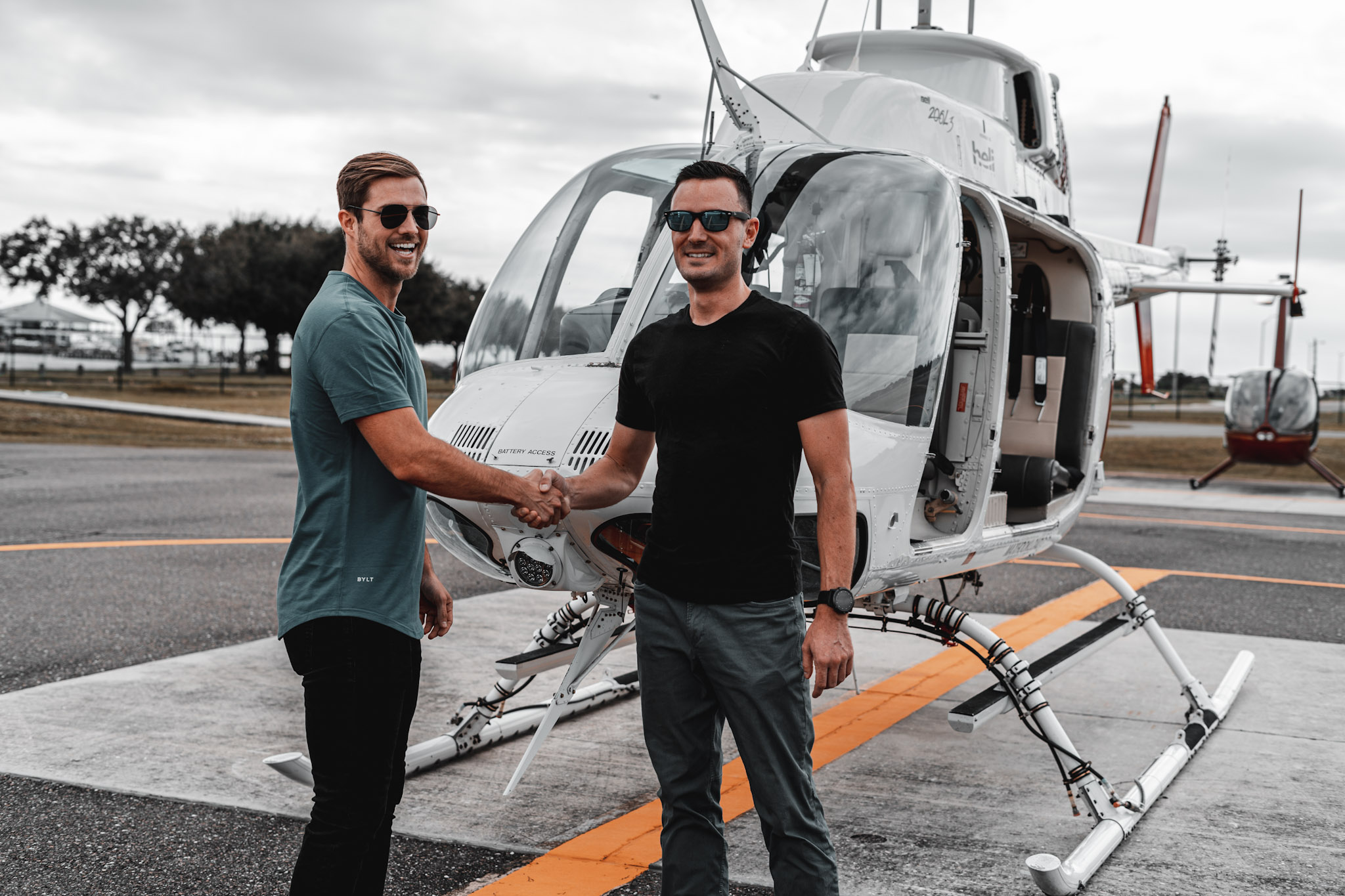 Top Reasons Contributing to flyVENTURE's Success
Since inception in 2012, flyVENTURE has flown over 50,000 passengers with a zero accident and incident record to date! FlyVENTURE's CEO & Founder Niclas Herle has combined his industry expertise with an innovative way of thinking. By embracing the power of social media, technology, customer care, and direct-to-consumer marketing, flyVENTURE has helped expand aerial experiences to an entirely new audience.
No two flights are the same

Variables in time of day, seasons, weather, and a custom flight plan have customers flying with us time and time again. Each flight is tailored to what you would like to see. Want to go high or low? Want to focus on a special landmark? Take your photography to new heights with flyVENTURE.
Direct to Consumer Pricing

From our humble beginnings, flyVENTURE has grown organically with thousands of followers across Instagram, Facebook, Twitter, TikTok and Snapchat. Breaking the conventional need for "middlemen" and secondary resellers, the relationship between the company and customer has fundamentally changed. Our Direct to Consumer model is made possible by engaging content, influencer collaborations and word of mouth marketing. Today's audience seeks more than just traditional aerial flights, they yearn for a differentiated experience with a unique access to the skies that can be projected outward to their social channels & networks.
Customer Focused Experience

At flyVENTURE, we take great pride in treating each passenger like part of the flyVENTURE family. Our state-of-the-art terminal was designed with our customer's comfort at its forefront. This casual environment allows our staff to get to know each passenger personally and tailor each experience to their needs. Our CEO, Nick Herle wanted to create a terminal that would act as an on ramp to help introduce passengers to the world of helicopter flights. We believe in a thorough and interactive connection with each passenger which creates a superior experience – an experience worth sharing with the world!
Aircraft Fleet and Pilots

Our fleet is comprised of Robinson R44, Bell 206 L3 and Bell 407 helicopters with open seating configurations. This configuration gives fliers maximum visibility out of both sides of the aircraft. No matter how large our social media following or how great our technology is, our pilots are the nucleus of the company! These highly trained pilots are masters of skies & experts at setting up shots to ensure fliers are in the best possible positions to take advantage of the ULTIMATE HELICOPTER Experience. At flyVENTURE, we continue to live by one simple mission, to bring the beauty and experience of aerial visuals to the masses. We look forward to seeing you in the skies.
flyVENTURE, LLC
Hotline Hours
Mon 09:00 am – 05:30 pm
Tue 09:00 am – 05:30 pm
Wed 09:00 am – 05:30 pm
Thu 09:00 am – 05:30 pm
Fri 09:00 am – 05:30 pm
Sat 09:00 am – 05:30 pm
Sun 10:00 am – 03:00 pm