Are Helicopter Tours Safe?
It's natural for people to doubt the safety of helicopters — it's just you being cautious. We're cautious whenever we board an aircraft or vehicle because of the risk of something going wrong. However, helicopter rides are safe when proper safety and maintenance protocol is followed.
The key is to make sure you discuss the safety measures any helicopter tour company takes. It would be best if you also were thorough about following the safety instructions the company has asked you to follow. Ensuring a safe and fun helicopter experience means everyone has to do their bit.
Safety Standards for Helicopters
Some basic rules for the safety standards surrounding the helicopters are that the helicopters should be sourced from a reliable manufacturer, maintenance should be performed regularly, the pilots trained, and industry standards followed.
These are all questions you can ask the tour operator you've chosen. For example, our helicopters are sourced from Bell Helicopter. The company also offers flight training, which is where our pilots have received their helicopter education.
Furthermore, industry standards such as the IS-BAO (International Standard for Business Aircraft Operations) are a good measure of how trustworthy the tour company is. There are over 700 IS-BAO registered aircraft operators worldwide with consistent growth.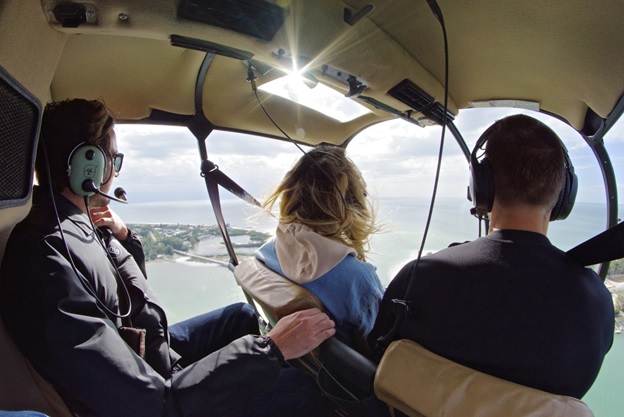 Safety Rules for Passengers
The second part of ensuring safety on a helicopter adventure is to ensure that passengers follow the proper protocol. It may surprise you, but helicopter safety isn't just about preventing accidents, it includes instructions that will lead to a comfortable, enjoyable experience.
So, the first thing you have to do is dress appropriately. It can be cold at the height a helicopter travels on, even in the summer. However, make sure you're not wearing any loose, flimsy articles of clothing that can come off, like a scarf or bandanna. These can get sucked away by the draft.
Second, make sure you're attentive when the ground staff is giving you a safety demonstration. The safety harness and the headsets are not optional! Don't take them off or pull them to the side.
How To Feel At Ease During a Helicopter Ride?
Even if you know all the safety instructions, you may still be feeling nervous. Keep yourself comfortable by talking to the tour company and voicing your concerns. They may be able to help you by talking you through what to expect and addressing your specific concerns.
Keep your mind on the beautiful sites you're about to see as you soar through the sky! The critical thing to remember is that if you've done your homework about the company and are following the safety rules, you don't need to worry.
Reach out to our team by calling (844) 359-8368 if you want to inquire about the standards we follow on our aerial sightseeing tours in Naples, Tampa and Sarasota, FL.