Tips For First-Timers On A Helicopter Tour
If you've never been on a helicopter before, you're in for a ride of a lifetime. Helicopter tours are lifelong experiences with whom many have developed an endless love affair. The thrill, the excitement, the view, the intimacy—it's all a part of the experience.
Here are a few tips for those going on their first-ever helicopter ride!
Calm Your Anxiety
If you're an anxious flyer, the first thing you'll need to do is to calm your anxiety down. Before you embark on your helicopter ride, we recommend that you watch a few helicopter tours on YouTube. It'll help you get a better understanding of how high the helicopter goes, and what the view should be like so that you're not too worried while on your ride. It'll help in visualizing the experience, which is a great way to combat flying anxiety!
Before your helicopter is about to take off, take a few minutes to practice some breathing techniques. Research shows that deep breathing techniques and meditation can help in calming an overactive nervous system, thus relaxing your body. If you feel like this won't be enough, as a last resort, you can speak with your doctor beforehand and get some over the counter anti-anxiety medicines.
Dress Properly
You need to dress appropriately to ensure complete safety while on your tour. Don't bring any hats, scarves, or wear accessories or long dresses that can get caught in the helicopter or fly away. Make sure you're wearing clothes that you're comfortable in, such as sneakers and closed foot shoes, and bring a light jacket along with you. If your hair is long, tie it up or braid it to avoid tangles.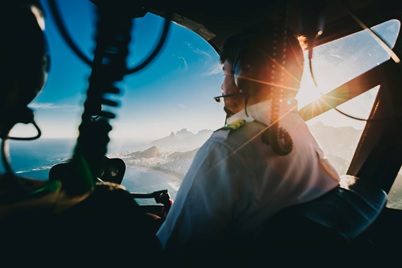 Safety Tips
You need to pay close attention to any briefing or instructions offered by the pilot. This is important because pilots are trained to keep you safe and secure at all times, so their guidelines are really useful. Pay special attention to any instructions given about entering or exiting the helicopter, as rotators are still moving, which can lead to dreadful accidents.
When sitting in a helicopter, know that it's critical to distribute weight evenly for stability and balance. The helicopter crew will probably assign a seat for you to ensure maximum safety. Lastly, keep all your personal belongings safe so that they don't fly away—and if they do, don't, under any circumstances, attempt to chase after them!
Experience unforgettable helicopter tours with FlyVENTURE. We are committed to safety and the community with regular helicopter maintenance, trained pilots, and up to date safety features. Our helicopters provide aerial tours, and our services extend to beach and wildlife helicopter tours in Denver, Tampa, and Sarasota. Book your helicopter tour now for an experience of a lifetime!
Contact us at (844) 359-8368 or email us at info@flyventure.com for more information.